This is an interview with Clememtine, taken part in Dio Pigadia – our permaculture Farm in Pylos, Greece.
How did you hear about COB?
Since I lived in Athens I began to search for alternative places in Greece and COB seemed to be the biggest organization at this time, in 2018. It was one of the only one on social media. So I started to follow their activity. Returned to France and followed them.
What do they do at COB?
They do eco-building with natural materials. They also focus on permaculture and regenerative agriculture. They give PDC courses (permaculture certificate). They began 20 years ago by planting many different species according to the teachings of Masanobu Fukuoka (a Japanese farmer and philosopher). They established a food forest in Nessonas near Larissa. It is amazing to see what they accomplished: a little oasis in the desert, a place full of life with many birds and other wild animals. Around it is mainly almond monoculture.
They are now specialised in alternative building solutions and work everywhere in Greece.
Now they are starting an Eco village. This was my mission there as an ESC volunteer.
What exactly is an ESC volunteer?
It is a EU exchange program with Erasmus. For short or long term, for 18 – 30 years old. You can get refunded your travel ticket and get pocket money (150e in Greece). I did a short term ESC for 24 days. You actually don´t have to be a student to do this.
How many ESC volunteers were staying there at this time?
We were 15 ESC volunteers from all over Europe and also 30 Youth Exchange which is another Erasmus program. In total we were 60 but this was exceptional. The others were here to learn and take classes as PDC or to follow workshops about ECO building.
It was amazing what we can do with so many people together in a few days.
What did you actually build?
A kiosk for the village with an oven, a grill, a meeting point with benches for the village nearby. It was nice to help the local community and build a place for sharing and exchanging. After my stay I got a "Youth Pass certificate" for eco-building and permaculture.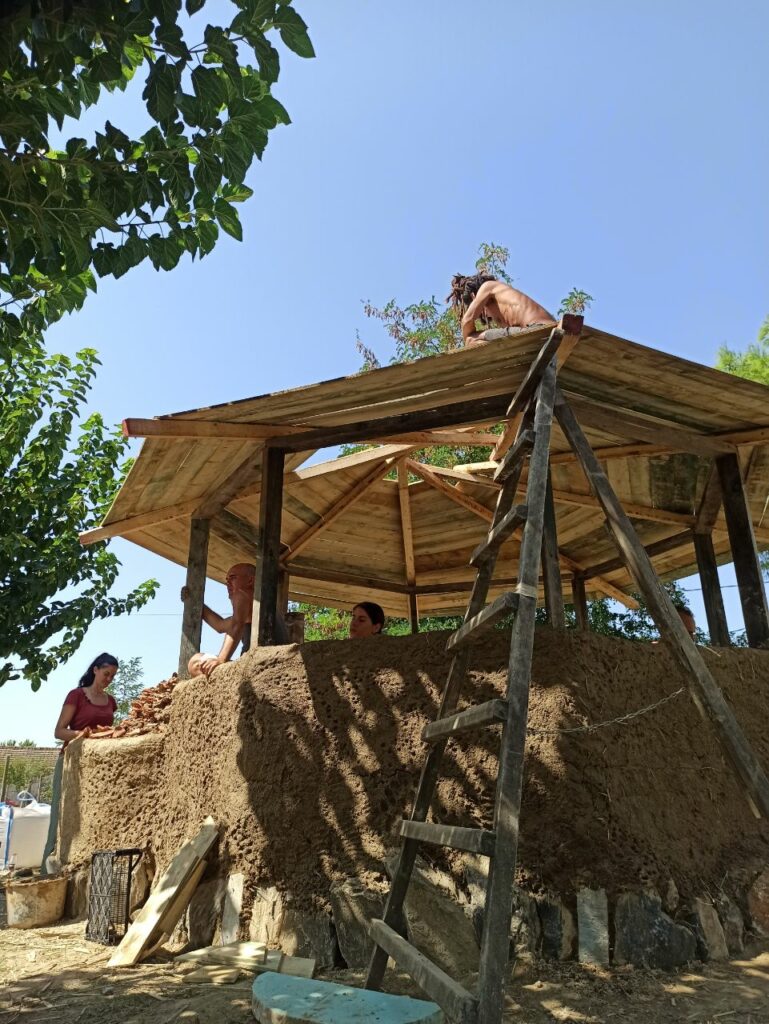 What building techniques did you use?
Stone foundation and wood structure. For the walls we used cob, a mix of sand, straw, clay and water. To make it waterproof we used lime and marble powder. It is all natural alternative techniques with local materials.
How was the accommodation?
I arrived with my van. The others were in tents since it was the beginning of the project for the village. They had an amazing huge outdoor kitchen all equipped to make delicious vegan food for everybody. Also dry toilets and a showers. In the food forest nearby they had beautiful cob houses where we could chill and enjoy the shadow.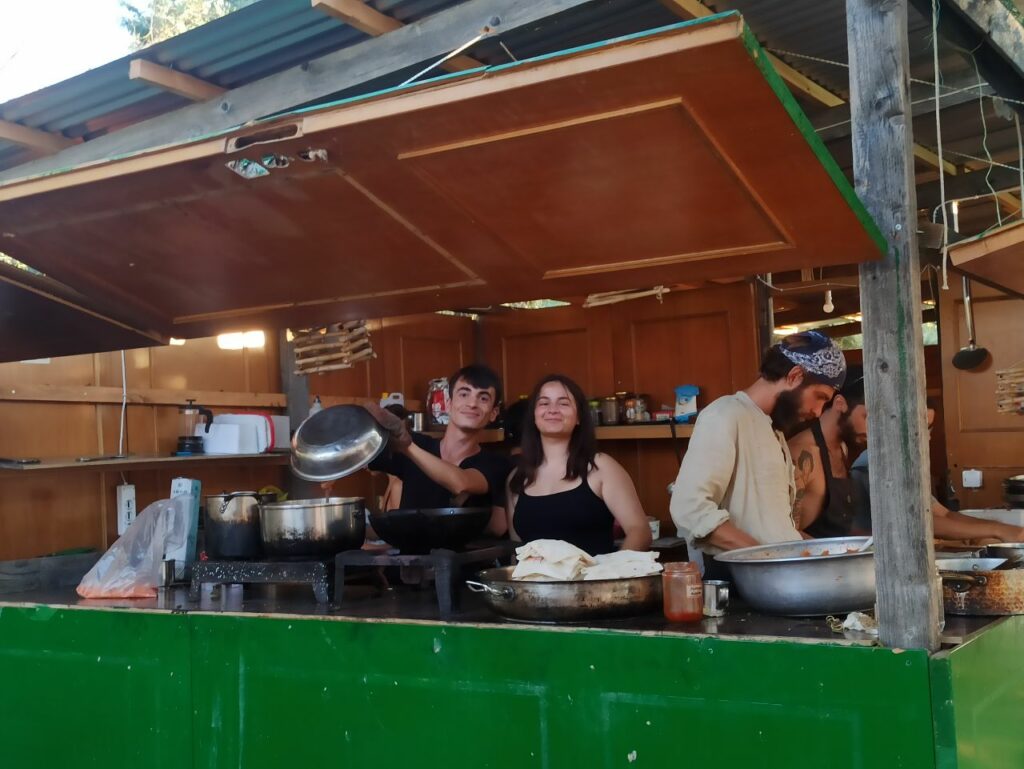 What did you do during free time?
Mostly resting and relaxing. It was during summer so it was hot. But free time activities included waterfall hike, camping at the beach, visit of Meteora and Mount Olympus which is nearby. I was moving around with others in my van. It was also possible to take the bus or hitchhike (this was working very well in the area!)
What was for you the most interesting about your stay there?
It was to realise that with many people we can build everything we want in a sustainable way. I learned a lot about eco construction techniques. It was a great experience to live in a community with so many people from different countries (13 nationalities and 13 different English accents). To get to know each other and work together. I was happy to see that our generation regardless to which countries is sensitive to environmental issues. Our common point was to experiment how to live with nature and natural elements.
And what did you do after COB?
I wanted to see other projects in Greece, on a smaller scale. In COB – Building with earth they recommended me to Dio Pigadia in South Peloponnese. I am now doing a long term ESC program there.