Welcome guys! Happy you are here! This place is yours, it is also a social experiment, treat it with love, show that we can make it together if everyone puts in a bit of good will. Take responsibility to take care! Let's make it magic!
Not a Volunteer? Check out this Page first.
What to bring
Clothes depend on the season. In the winter woolen hats and socks, warm stuff… In the summer you need the strict minimum. Rain boots are available in town for 10e, good hiking shoes are always nice to have, sneakers work most of the time.
If you want white pristine sheets you are welcome to brings yours, ours are clean but might have stains.
A headlight is nice.
Natural biodegradable soap.
Mosquito product why not in summer?
A personal water bottle.
Ear plug (currently the dog is barking at night hehe)
Internet:
We don´t provide internet but 4g works good here. You can get a card pay as you go for about 10 Euro. Go for Cosmote Whatsup that has better signal than Vodafone here. Being a digital nomads is fine. You can work good here, have your space if you want. You should get your own laptop and sim card.
Housing
First come first serve. Organise yourself with others. What is free, what will be free, what setting works best for you. It should be clean and have sheets and all from the previous ones (you know what to do when you go). If needed the person in the Beehive caravan is in charge of sheets, towels…
We have several caravans, tends and hammocks..but sleeping in a hammock is not really fun. There is also plenty of space for your own van on the ground.
Work routine
Working hours are 4-5h a day. Rest of the day is free. Depending on the season these hours can be organised differently, in summer for example would be early morning and late afternoon. It is also flexible, people are responsible and nobody will check or push you. Some people want to work more but don´t let yourself pressured because others are working! It´s totally cool to enjoy free time, it has to be a good experience for all.
We encourage greatly self participation. Do what you like, what you think is useful, take responsibility, this place is yours!
We discuss in the morning of things that need to be done, it is a flexible system. The older volunteers show the new ones how things are done and how they can help.
Cooking
We have a rotation system with a lottery where 2 people (sometime 1 if we are not many) are cooking lunch, 2 others dinner. Lunch team is making the daily bread. There is an other rotation for dishes.
Special diets are not a problem, we adapt to that. Could be by making 2 dishes. Let us know your preferences when you arrive.
We are eating mostly vegetarian although once in a while we eat animal meat from the farm when need be (rooster population has to be balanced with hens otherwise they fight and harass them!). Most of what we eat comes straight from the garden. With our homemade olive oil it is always delicious!
Harvest and cook veggies that need to be in priority. Go look for them a bit further where others have forgotten them! Look at what has already been harvested.
Find ideas to process stuff we have in too big quantities. Gardening and cooking go together!
Also don´t worry if you are no expert chef, we are always glad for food and you will be cooking with somebody else so no pressure! If you really don´t know what to cook you can check out our recipe section.
The kitchen
The kitchen should be clean after cooking, the person on dish duty should not be cleaning for the cook!
Also helping out in the kitchen is always welcome on a voluntary basis.
Clean your plate with bread! Don't be polite and leave one spoon of food in the dish!
Watch water and soap consumption! Many techniques there, not using any soap (might seem hardcore but many pans or knifes actually benefit from a little grease, plates some time deserve just a good rinsing…), rinsing with your hand first, one drop soap mixed wit water to clear the extra grease. Also rinsing greasy pans with an old piece of bread or other and feeding to the chickens is great!
Never put anything that can't take heat on top of the oven!
The shower
Check the red valve for hot water (we will show you when you arrive!).
Save water in the summer. For real.
Don't use too much soap. Organic/green soap highly recommended. Bring your own or we can provide you with natural olive oil soap.
Pick up your hair.
Clean it.
Avoid lifting stuff under your feet (gravels and such).
It doesn't drain well and tends to get clogged. That can be addressed by putting pressured water from the green spiral tube in the exhaust. Ask older volunteers to transmit the knowledge!
The dry toilet
Poo and pee as usual. Paper goes in the bin. Non organic stuff also. When it's full empty in the big poo box, clean WELL with brush and water, toss the water, put some wood shavings, ready for the next one!
Don´t wait until you can´t sit to consider the bucket full! Please empty paper garbage in main garbage when needed. Nothing more depressing than dirty toilet paper coming out of garbage… Come on guys!
If you feel like peeing under a tree is always better, compulsory for guys (actually a good trick guys is to pee before going to poo 😉 ) Pee is what makes the system smell…
Energy consumption
Watch your consumption. Solar panels take over in a sunny afternoon so free electricity at this moment – use it. Take advantage of this for heavy loads (oven, washing machine).
Save Gas, use the rocket stove!
In general
Please feel like this place is yours and take responsibility to participate in what needs to be done. Address mess and dirtiness, don't hesitate to tell the other ones if they forget to do so.
Also please think for yourself what needs to be done. If you are not sure, older volunteers can answer most things.
We have a suggestion box for anonymous comments. Please use it! It will be a good start of the Friday Feedback Flunch where everyone will have a chance to share positive and negative things. But suggestions are welcome anytime!
If there is something you are good at or you consider necessary, go at it!
The cats are invasive and will attack any kind of unprotected food. Beware!
The donkey had a bad story before. He is now less afraid and friendly but try to be gentle, no hasty moves, no shouting, also he doesn't like people passing behind him…
Skordo is sometimes an annoying dog, especially to new volunteers. Don´t hesitate to show him you are not in a playful mode. Give him a stick to bite or just hit him with the stick (ok just a tap on the top of the head!). Other methods are saying (shouting) with authority "OCHI" meaning "no" or putting him on the ground and keeping him paralised, you can also strangle him! It´s half a joke, the important thing is that he understands you are not playing. Avoid playful attitude if you don't want him jumping at you! In the end we all love him, I mean sometimes we can also hate him like when he barks all night but there is nothing we can do about it except wear earplugs!
About recreational drugs there is a tolerance policy here. But I wont be supporting it.  There might be alcohol here to provide for visitors, volunteers are welcome to help themselves just write down your drinks on the fridge (1 Euro). I trust you on this please remember it´s for the project!
Please don´t go around asking for weed. It is a small place and everybody will know that you are part of Dio Pigadia and it is not good for our reputation, or worse…
If you enjoy and believe in this project and want to help, donations are welcome in the donation box.
Activities in the Weekends
There are different things to do around here on weekends. Off course moving around is not so easy but a bit of hiking/hitchhiking works. We also have bicycles, 2 for now but probably one more very soon! Sometimes the crew will move with the car. I have to drive the car for safety issues the car won't be lent for going around.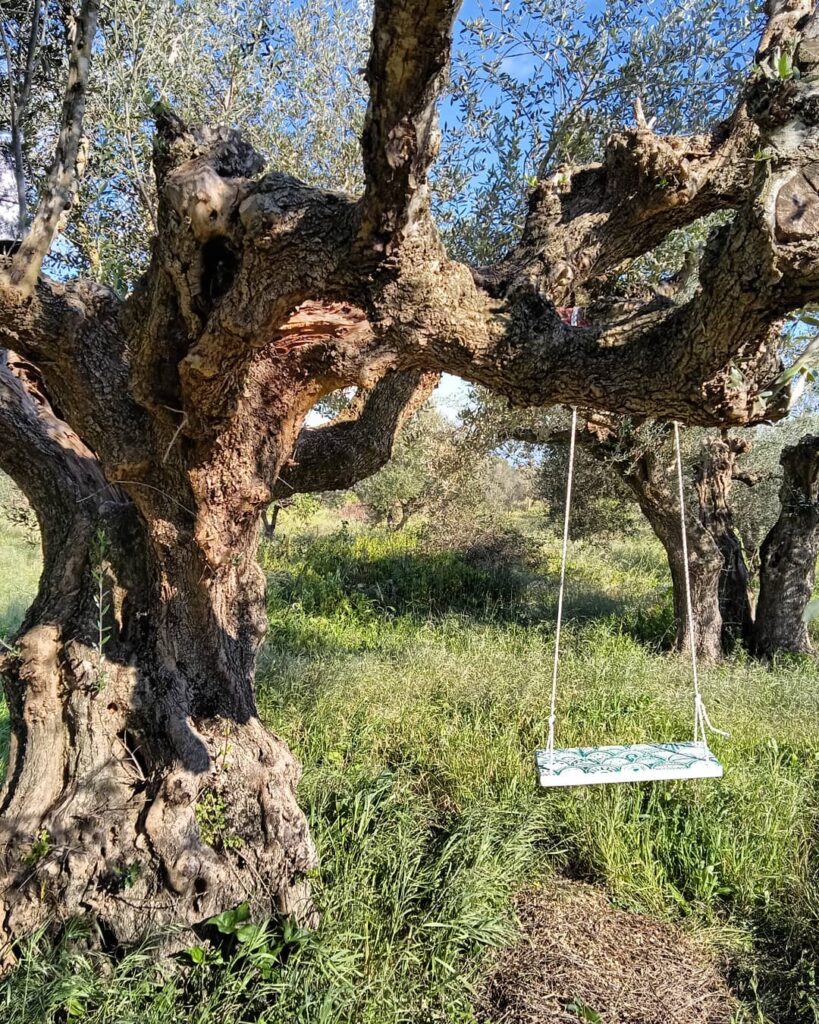 Some ideas are:
The Stenosia waterfall hikes. A bit far but definitely worth it.
The old castle walk (a MUST).
Beaches, Finikounda being the nicest but the furthest, Methoni works.
Pylos is great for chilling in coffee places and a quick swim.
There could be a bit of sailing.
Please keep in touch together to let the other ones know what you are planning (especially for new volunteers). There is usually a common Whatsapp group, if not you are welcome to make one!
Having a Website or Social Media Channel?
If you believe in this project it would really help us to grow if you write content about us and link back to our Website or Instagram Channel. Every mention will help the project!
Are you ok to appear on social media? Please remind us if not it's totally cool.
Please also help produce and share media content on Instagram and TikTok.
Thanks guys