An Interview with Didi and Nini, a couple in their 20´s, taken part in Dio pigadia – our permaculture Farm in Pylos, Greece.
We wanted to know how they got to Greece, where they stayed before us and how it was.
Didi and Nini stayed from the 26.06. until 24.07. in YamoChori | youthactiveminds.
How did you find YamoChori?
We were lying in bed, wanted to do something with workaway in Greece and just started to search for Farms in Greece on workaway.
How did you get in touch with YamoChori?
We wrote them on workaway and they send us their Whatsapp.
We made a Video Call in English and they told us that from 23.06 – 03.07 they have an Erasmus project and after that we could continue as Volunteers at their farm.
How did you get to YamoChori?
We took the Train from Milan to Ankona. From there we took the ferry to Patra. We stayed in the university City Patra with a lot of concerts and traditional music.
From Patra we took a Bus to Agrinio – the biggest city near Yamochori, then the farm owners picked us up and we drove to their beautiful farm.
Tell us a bit about YamoChori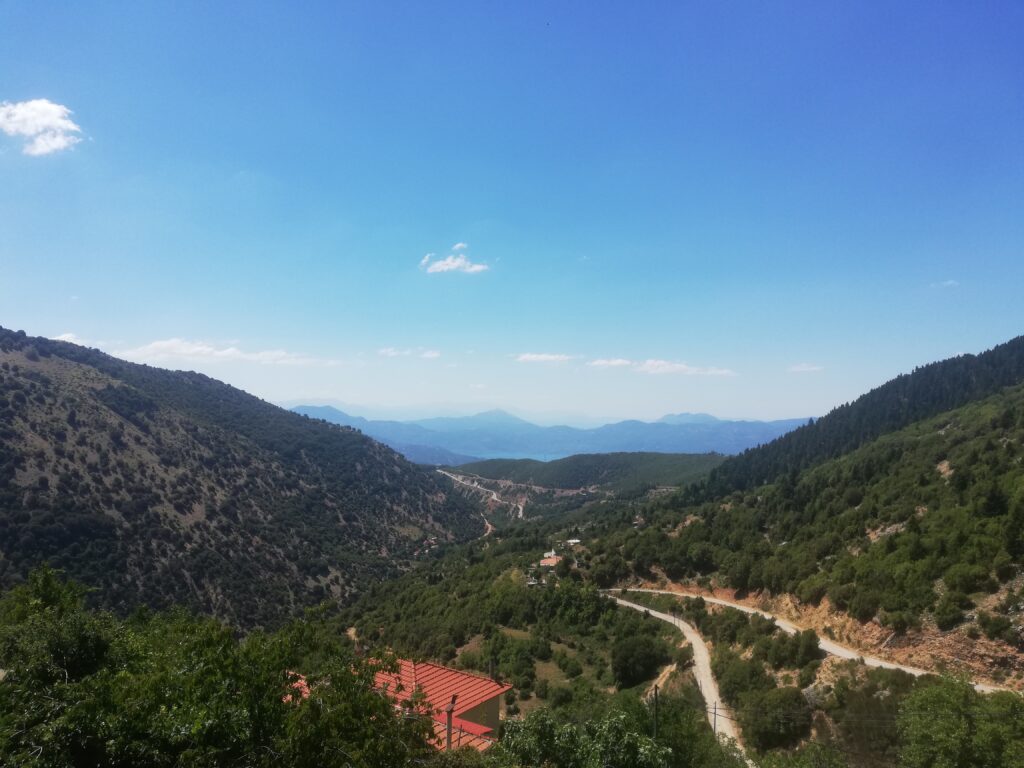 YamaChori is in the mountains so it can be challenging to get there.
Agrinio is 45 minutes by car and the next nearest village is half an hour by foot and it has one taverna and a little market.
There is a river near, to swim, wash yourself or the clothes. They also got the most of their water from that.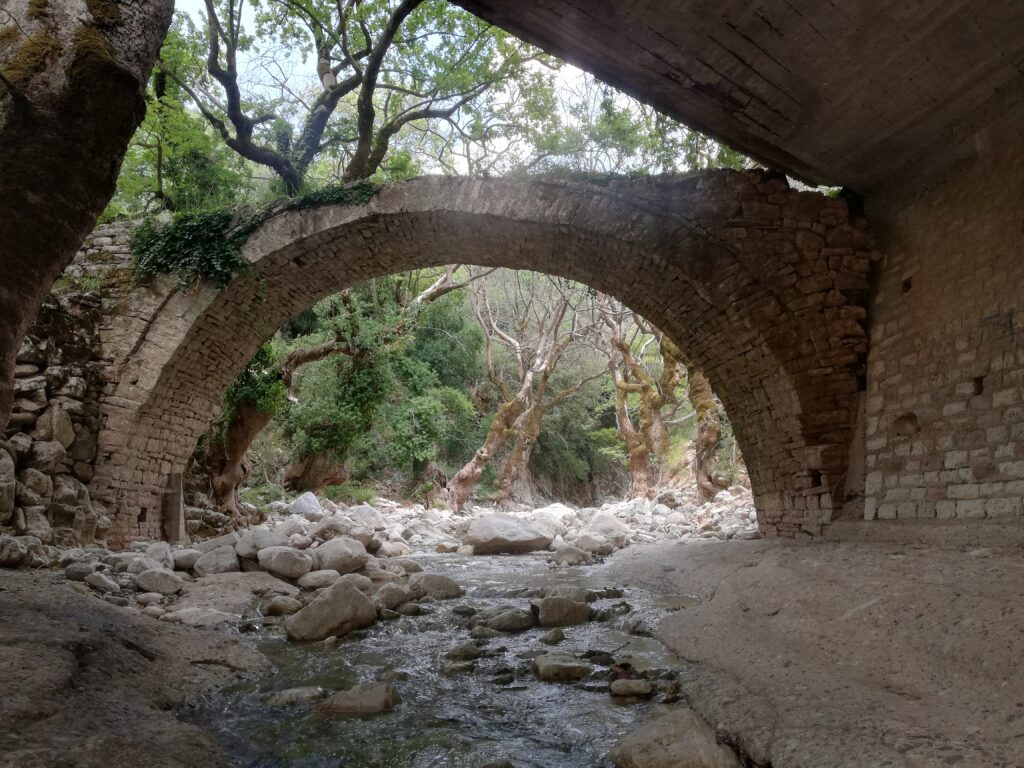 There is also a lake called Trichonida, its one of the biggest in Greece.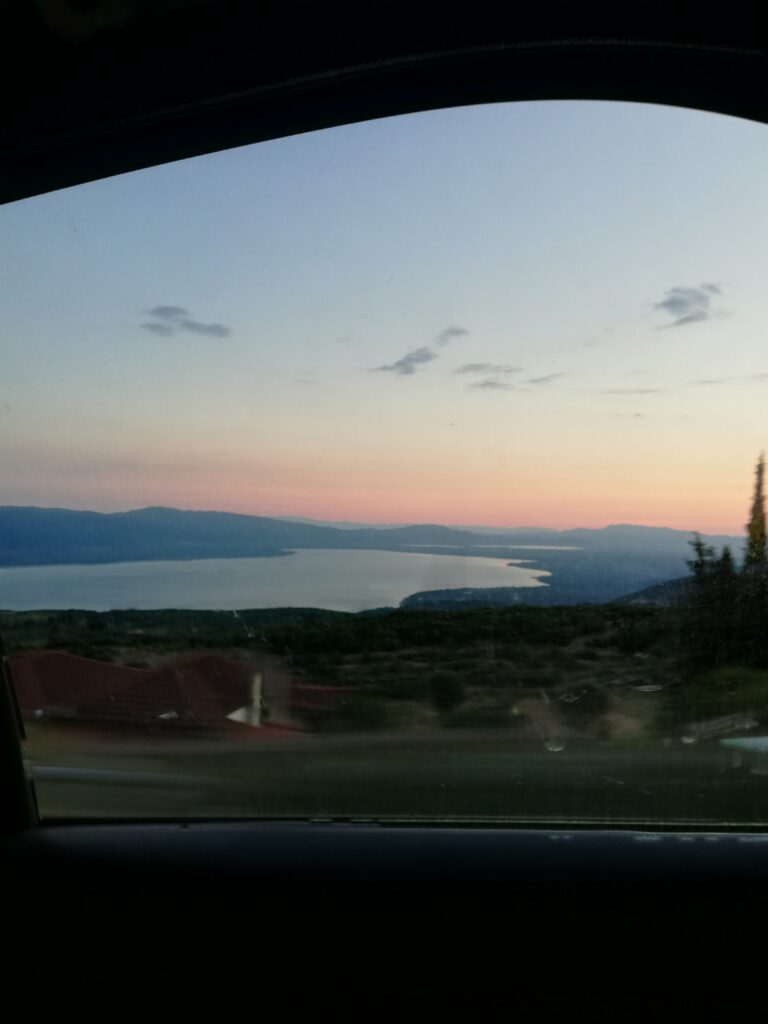 There are also no olive trees in there like there are in Dio Pigadia.
How did you get into know the people?
We did a lot of games at the beginning to know each other. As well we did a mountain hike together.
How good did you sleep in the mountains?
We slept very well.
It was a bit colder during the nights because of the mountains.
They have a place with lots of tents that suits for around 6-7 Persons and all are sleeping together.
So you had not a separate sleeping place?
They separate gender, but if you have our own tent, you can be with who you want.
After the Erasmus project we have only been 5 or 6 People, so it was more chilled.
We slept very well, they gave us a mattress, sleeping bags and sheets, which was nice.
How did you eat?
We had an outside self-build kitchen and also a big eating/chill area.
On our stay there were like 30 People on average at the Place while Erasmus was going on.
We ate a lot of traditional food, that you cannot find in the tavernas, like Soups and very tasty Greek salads.
They also made their own wine and Tzipouro that were delicious.
Was there a shower and could you wash your cloth?
There were four self-build showers outside with beautiful mountain few.
There is also a washing machine, but we didn't use it that much because of the nearby river where we loved to wash our clothes with a natural hand-made soap.
What did you enjoy the most in your stay?
I enjoy the most making dry stone walls without mud, only soil – you have to play "Tetris" so they sit well and won´t move.
We rebuild parts of an old wall in about 3 days.
We also learnt how to filter the water of the shower so we could use it for gardening.
When your stay was getting to an end?
We wanted to go on another workaway adventure, and to see other parts of Greece.
We found the Dio Pigadia permaculture farm in the Peloponnese and connected Jules over workaway.
How did you get from YamoChori to Dio Pigadia?
After some travelling in Greek islands, we took the ferry to Kyllini and from there we had few buses to get from the north to the south.
On our way, we visited Kalamata and found a cool second hand shop and many restaurants along the see.
From Kalamata, we took another bus to Pylos where Jules picked us up by car. Driving instructions are found here.
It took us 10 minute drive to get to Dio Pigadia – where we stayed for another two weeks.
Thanks Didi and Nini for sharing your stay at YamoChori.