This is an interview with Camille on her stay at Kathy's Island Retreat, Karpathos in Greece. She stayed there in August 2021 for 21 days. The interview was done at Dio Pigadia – our small permaculture farm in Greece.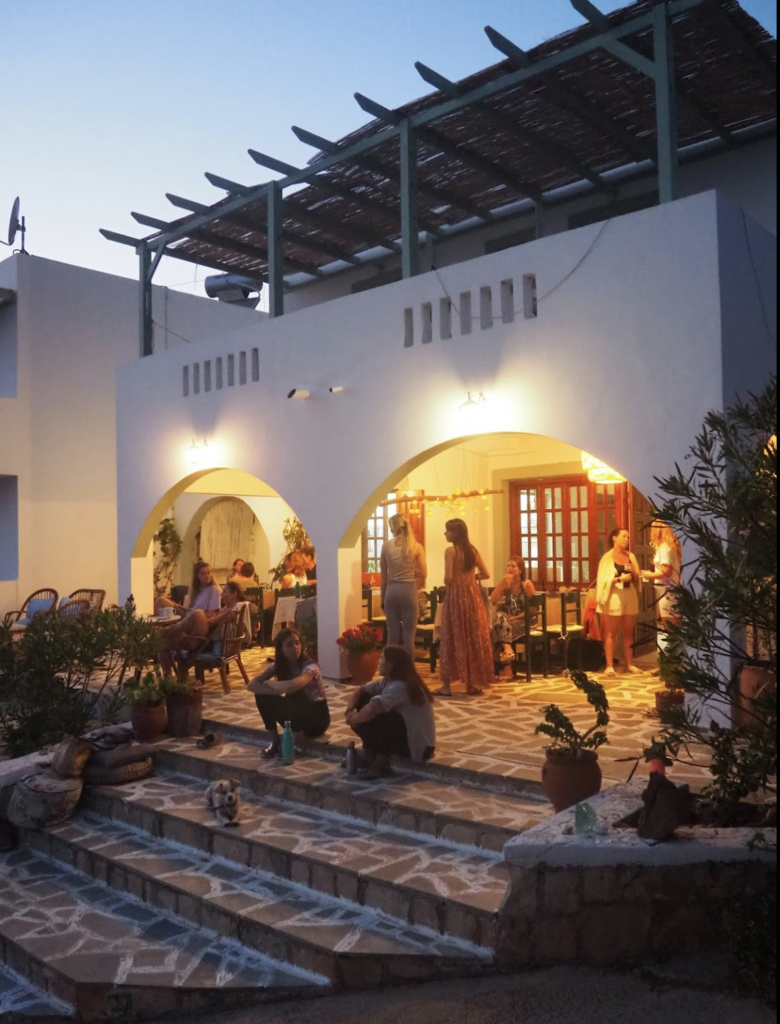 How did hear about Kathy's Island Retreat?
It was a time of my life where I decided to invest on my growth and my personal projects. At that time, I was practicing yoga for many years and I decided to do this teacher training for self-development.
There was a platform called BookYogaRetreats that kind of lists all the retreats of the world. I found this program, saw the pictures, the very nice reviews and I didn't doubt about it. It was clear for me to go there, so the choice was made in about a few hours to participate at the payed teachers training.
How did you get in contact with Kathy's Island Retreat?
Through the platform you just write a message to them. But before you apply, they make a call with you to be sure you both are align with each other. We had a 30 Minutes Videocall over Skype just to feel the vibes.
It's a couple who created that place. They act for a bigger vision – the goal is to bring humanity together, to elevate the consciousness of humanity. The teacher training is a good way to reach people so they can spread the teachings. But they are not only doing trainings – during the year they have started an own community so they have many projects going on about the land, building stuff, gardening and so on. Basically, they want to bring people together.
Okay that's interesting, tell us more about their Philosophy.
The Idea of yoga in the western country's is mainly for sports. But the real philosophy of yoga goes further than that – it's about how you approach life. The teacher training is not about knowing the perfect poses, their focus is to share the philosophy and the real roots of yoga.
One big part of the yoga philosophy is karma yoga which leads you to act for causes that go beyond your own interest. This is also what inspired me to join adventures as a volunteer.
This place is really a place that allows growth. The people are very supportive, you feel very safe being there. But Growth is not easy all the time. You face your dark sides, the limitations of the mind and your ego. It's not vacation, its challenging – you really work on yourself. The teachers are always by your side to give you the tools to overcome the challenges. The teachings go wider than yoga, the teachers share also personal knowledge such as Bach remedies and sound healing.
21 Days sounds short to establish the teachings…
These 21 Days were really intense, it was enough to turn everything upside down. Teachers are aware that's its short, that's why they offer their support during the following year. It's a weekly video gathering to talk, share and support each other. It's really a dedication from them, expecting nothing in return. I am really thankful for that. You can really feel that they are doing it from the heart, for the vision and not for money.
Can you tell us a bit more about the Accommodations?
We had two different types of accommodations. Mainly we were sleeping in a house with several bedroom. You can share the room or can be on your own to have your privacy. If you don't sleep in the house you can sleep in nice caravans. Everyone in the house had his own bathroom and comfortable bed with a beautiful sea-view. I was sleeping very well.
How did a typical Day look like?
We woke up for our first yoga class from 8 – 10 AM
Then we had a little breakfast.
After we had yoga philosophy class for about 2 hours until lunchtime.
We had around 3 hours of free time to enjoy.
Depending of the day we had different lessons in the afternoon.
After dinner we often had yoga related movie nights, singing, music, games…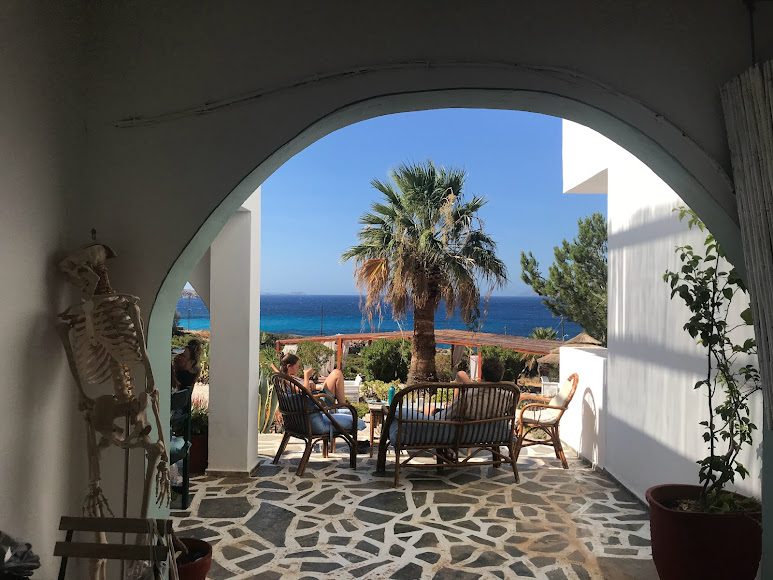 Here at Dio Pigadia we cook ourself: How does it work there?
There were about 5 volunteers (they are actually looking for volunteers) who cooked three meals a day for the 20 people. There was a rotation for the volunteers so in their spare time they could attend for free the morning yoga class as well.
The food was vegetarian with vegan options. It was organic, local and fresh – this was super delicious food!
What did you do in your spare time?
It is a remote place where the nearest village was 15 minutes away by car. It is located in front of the sea. You can enjoy swimming, beautiful sunsets. There are also big mountains for hiking.
We didn't go out of the area during the week because of the packed schedule (we did 200 hours of training in 21 Days). Though on Sundays we went on different expeditions to very nice places with beautiful beaches and light-blue water. We also went to Olympos, a very traditional village in the mountains.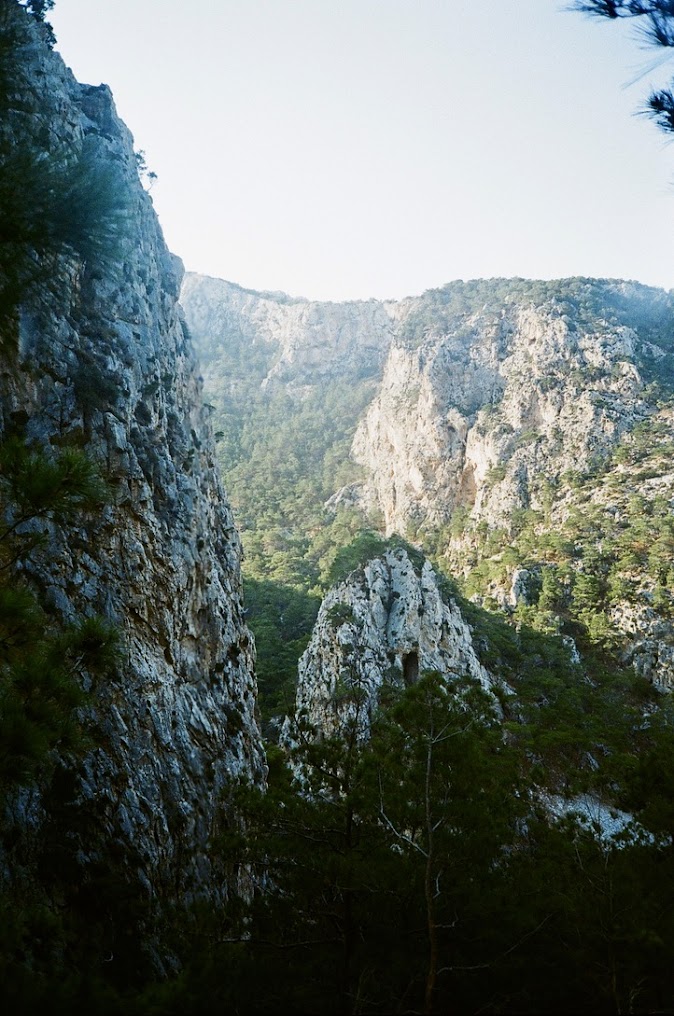 So you are still in touch with the other teachers and students?
The experience with the group is very intense so you build very strong bonds. The exchange was very deep so I have still contact with a lot of people from my time there. You developed true relationships so for me and for all the people I know it was a life changing experience. It inspired me about community living.
In Dio Pigadia we are also living in community with volunteers. What attracts you to this kind of lifestyle?
I love the idea of creating something together, to grow with nature, to have deep connections and also to work hard together for a bigger vision. Sharing with people and learning from others. It's a lifestyle that allows me to live in full presence, away from the craziness of society.
Volunteering (Workaway, WWOOF … ) is a great way to experience this lifestyle. I am so glad for my experience at Kathy's Island Retreat and I am really looking forward to have similar experiences on other projects like Dio Pigadia.
Thanks Camille for sharing with us your experience. At Dio Pigadia we support this same Mindset you experienced at Kathy's Island Retreat. Creating a Community where you can have deep connections to people and nature.
We also aim to create a space for yoga surrounded by nature at our place 🙂 Are you more interested in Dio Pigadia? Check out our Instagram Profile.